Forbearance Update | Daryl Palmer Beach Homes |
Mid May 2020 Forbearance Update
Mortgage Expert Dave Ramirez with Movement Mortgage-Forbearance Update…
is with me unpacking what's really going on with this word Forbearance in this crazy pandemic we are dealing with during COVID-19 in this Forbearance Update. What does it mean & more importantly … what does it mean for you? Listen to this edition of  Itsabeachything Podcast. If you're behind on your mortgage, this is super important!
In a recent video I quickly talked through some of the potential snags for you doing a Forbearance with your mortgage company. Dave & I talk about it in great length here. There's a lot to understand here.
UPDATE: this subject is changing weekly it seems. Since we recorded this, FannieMae & the likes (read: govt backed mortgages) just announced that they will NOT be forcing anyone in Forbearance to wait 12 months AFTER they pay back all the owed monies until they can file for a refinance or a new loan. (purchase). This is a great step towards them using logic instead of just making policy.
Forbearance is NOT Forgiveness!!! 
And What The HECK IS Forbearance Anyway?
If you're having trouble making your mortgage payment… You MUST watch this!
I'm hearing this from clients and other agents around the country that YOUR lender may even AUTOMATICALLY put your loan on Forbearance. Be VERY Careful and make certain you understand this completely!
What is it? Watch here to learn.
Forbearance can work for you… but it also can work for the mortgage company and not necessarily for you. The details are in my video.
Forbearance is when the mortgage company allows to you skip a few payments. But you have to pay them back. This is a recent BIG Deal because of the sudden loss of jobs and incomes during Government Lockdown during COVID-19 pandemic.
They can spread it out over a few months… ie: 6-12 months (or in a balloon payment! This is probably changing for all lenders… please check with your lender so you understand what you're getting into) either way… you could be paying MORE than your original payment & that might put a ton of stress on you, your budget & your ability to pay it all back when they demand it.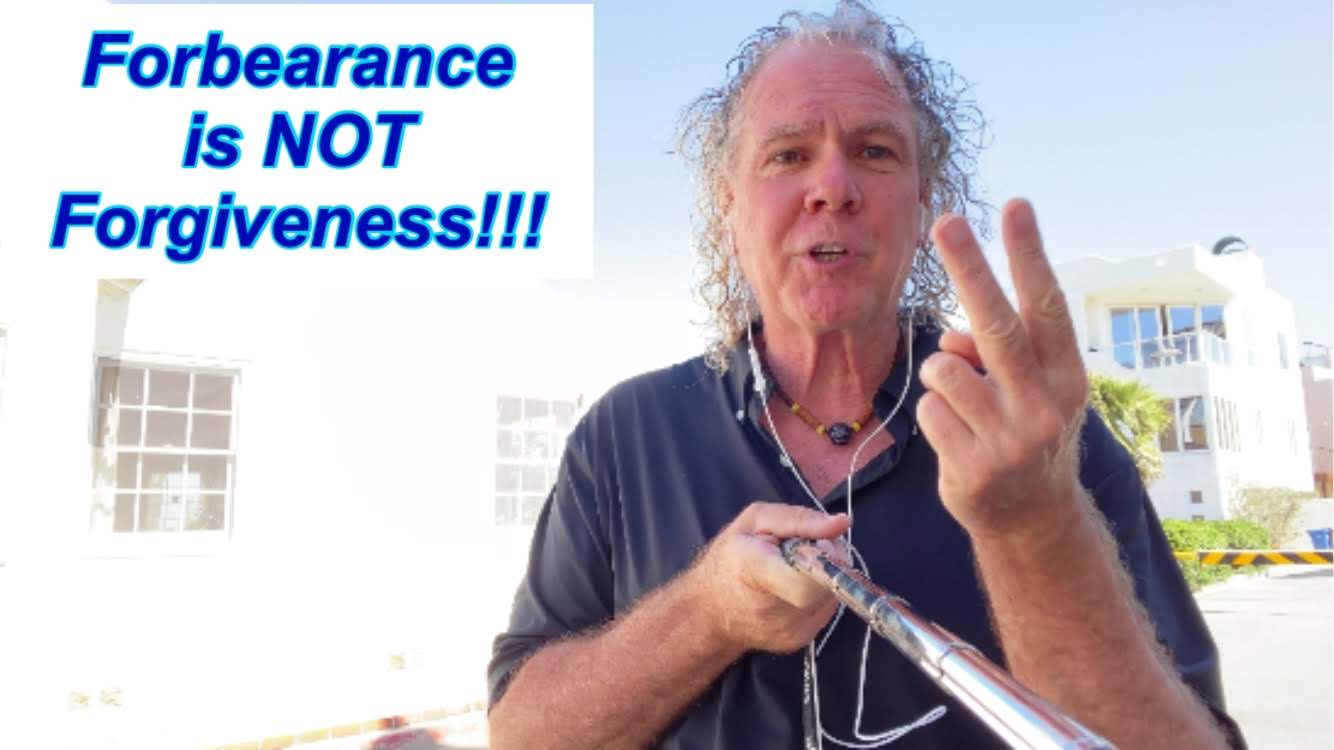 Forgiveness is the term you want to use
and don't stop negotiating with your mortgage company until you get this. I just read new data showing that in March 2020 the percentage of mortgages in the US under forbearance was .025%. 1/4% of all loans! At the beginning of May 2020, 7% of all loans are under forbearance in the US.
UPDATE: Most lenders have now said that they will be adding the missed payments to the back end of the loan. There won't be any "late fees or payments" noted in credit companies files, it supposedly won't affect your credit. (we won't know until later if this is true). Your payment won't change and you'll just owe the back payments when the loan is paid off either by a refinance or when you sell the property.
Just watch the video!
It's difficult for a lot of people out there… being thrown into a recession in one weeks time. Your mortgage company has an ulterior motive… they may want to take your house back in a future foreclosure… especially if you have a lot of equity. Just be careful and know the terms… both short term and long term if you get your payments waived for a period of time.
Call me or write if you need some help with this, I can put you in touch with mortgage pros who can help guide you.
Stay safe and sane!
Virtually Yours… Daryl Palmer
310-502-4240
Book a 20 minute Strategy Session with me here: http://meetdaryl.com/
Buy my Amazon #1 Best Selling Book: Dwelling Selling – How The Internet Made Selling A House In The South Bay Easy…& Other Funny Stories
https://www.amazon.com/author/daryl
Find Dave Ramirez – Movement Mortgage here:
970-708-1324
NMLS 404613
https://www.DarylPalmer.com   My Blog
Also Please Subscribe to my YouTube Channel!